ALL NEWS
Friendly match. Russia W - Japan W - 3:1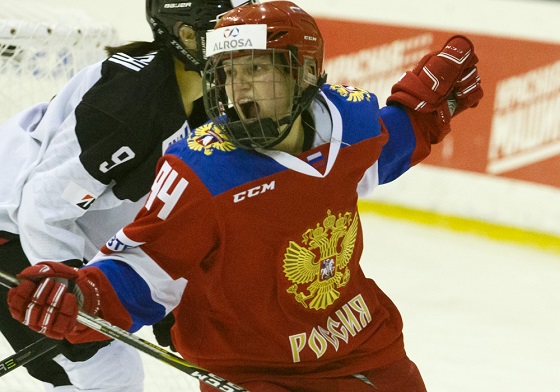 In Novogorsk, the senior Russian women's national team took on Japan for the second exhibition game between the two countries. On Sunday, Russia won the first fixture 4:1.
Just like in the first match, Japan struck first in the opening period. Nevertheless, goals from Alevtina Shtaryova, Evgeniya Dyupina and Nina Pirogova eventually earned Russia a 3:1 victory!
Russia W head coach Alexei Chistyakov:
- It was a difficult game for us. The girls didn't underestimate the opponents. However, after we failed to take advantage of our goalscoring chances, we conceded a shock goal at the end of the first period. It's always difficult to play two consecutive matches against the same opponents, Japan's ambitions had increased. Nevertheless, the girls did well to turn the game around. During the game, we made changes to the lines which worked. I wouldn't like to point out any one player in particular, it was a team effort. However, we do need to take more of our opportunities. This year, we want to build upon last season's good series result against NWHL clubs. Some of the girls can't travel because of different reasons, but the players are prepared to fight.
Russia W forward Olga Sosina:
- Yesterday's 4:1 victory made the team a bit too relaxed. However, you have to respect your opponents. For the incident at the end of the first period, we were all caught puck watching and Japan scored with a ricochet. These things happen. I last played against Japan at the 2014 Olympic Games in Sochi, but since then, their passing, skating and shots have improved. They play a team game. These games were good for giving the girls confidence.
Russia W forward Alevtina Shtaryova:
- Following the match yesterday, we were tired but the opponents improved. In the second period, our combination plays paid dividends. We had been working on them in training. I scored my goal off a good pass. The team had a good mindset for this match, however it was more difficult to play than yesterday. Right from the off, the opposing players played an aggressive style of game. We didn't underestimate Japan. Before the game, the coaches told us that Japan have ambitions to become a better team. They think of Russia as their biggest opponents at the Olympic Games. Their physical build isn't as big, but they are fast and move well. You can't relax against them.
Russia W line-up:
Tarakanova (Morozova);
Skiba, Shibanova - Belyakova, Likhachyova, Sosina;
Tkachyova, Batalova - Shtaryova, Dergachyova, Shokhina;
Nikolaeva, Ganeeva - Dyupina, Kaneeva, Kadirova;
Chistyakova, Pirogova - Mitrofanova, Podkamennaya, Malyavko;
Lobova.
Match protocol:
Russia W - Japan W - 3:1 (0:1, 1:0, 2:0)
Goals:
0:1 Shishiuchi, 19.41
1:1 Shtaryova (Dergachyova, Shokhina), 35.18
2:1 Dyupina, 57.22
3:1 Pirogova, 59.57
Goalkeepers: Tarakanova - Fujimoto
Penalty minutes: 8 - 12
09.10.2017.
Russian Ice Hockey Federation