ALL NEWS
A special charity match has been held in support of Fyodor Kanareykin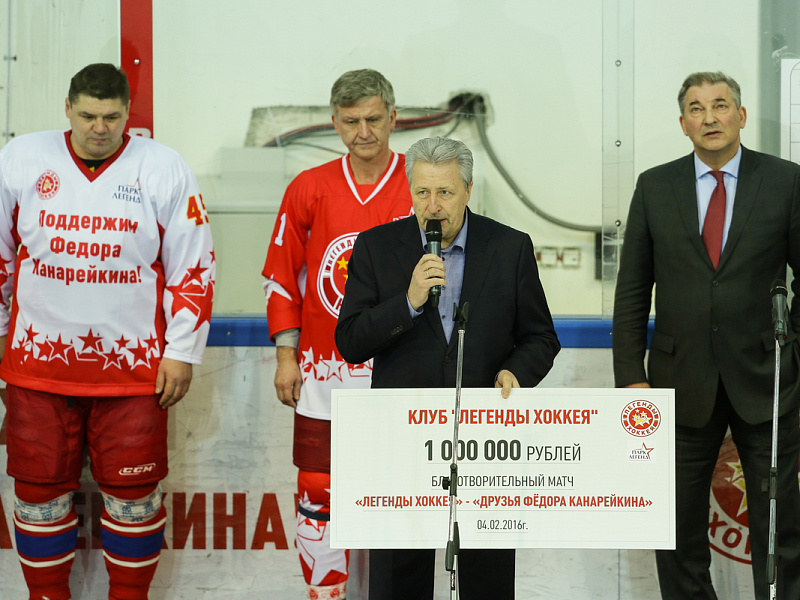 Inside the small Legends Park arena, a special charity match between separate hockey legends was held in support of Fyodor Kanareykin.
Famed Soviet and Russian hockey players such as Vladimir Myshkin, Pavel Bure, Alexei Kasatonov, Ilya Byakin, Alexei Morozov took part in the match, as well as Fyodor's son Leonid and actors Marat Basharov and Andrei Merzlikin.
The match finished in a 7:7 draw. Fyodor is recieving treatment in Germany at the moment, however his son Leonid stated that his father is feeling the support even from a distance. More than four million rubles were raised as a result of this match.
Russian Ice Hockey Federation president Vladislav Tretyak:
- It's great that our hockey family has gathered in support of Fyodor. The Russian Ice Hockey Federation we're going to be left out.
Match protocol:
Hockey Legends - Friends of Fyodor Kanareykin - 7:7
Hockey Legends goals:
Byakin (Mishukov)
Byakin
Mishukov (Bure)
Bure (Kasatonov
Kasatonov (Mishukov, Ilin)
Davydov (Golikov
Friends of Fyodor Kanareykin goals:
Gordnyuk (Kanareykin L)
Romadanovsky (Gutnov)
Chirikov (Zhebrovsky)
Kanareykin L (Chizhmin)
Romadanovsky (Chirikov)
Gutnov
Morozov (Kovalenko)
Goalkeepers: Myshkin (Shilkin) - Mikhailovsky (Torzhkov)
04.02.2016. Moscow.
Russian Ice Hockey Federation