ALL NEWS
Oleg Znarok: "We have received a lot of useful information"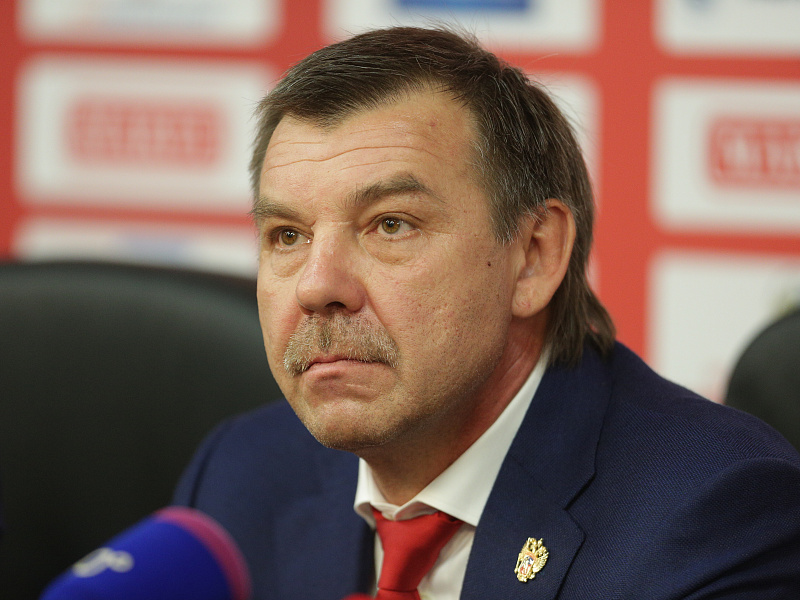 After making a trip to the USA along with Alexei Zhamnov, Harijs Vitolins and Sergei Fedotov, Russian national team head coach Oleg Znarok spoke about what he learned from the experience:
- It was a very useful trip, and we got to know Tampa Bay's Nikita Kucherov, Nikita Namestnikov and Nikita Nesterov. We were in the same hotel as them. They were a bit shy at first, but they soon relaxed and we had a good conversation. It's obvious that for a coach, it's better to watch hockey at the stadium itself. If we call NHL players up for the World Championship, we don't have the right to make a mistake about the candidates.
- Your first match was the New York Rangers against Chicago, and Artemiy Panarin scored a hat trick.
- This is his first season there. The NHL is a very complicated league, and for it to work for a player, everything has to fall into place: quality, desire, teammates, and you have to be coached by the right man. Artemiy is playing great with Chicago, and I can say the same about Artyom Anisimov. In this match Artemiy was a little off his game, but that was because of recovering from an illness. He still netted a hat trick.
- Afterwards at the Washington - New York Islanders match, you had the opportunity to see a number of Russian candidates.
- First of all I wanted to see Alexander Ovechkin and Evgeny Kuznetsov play together, and we also wanted to witness Dmitry Orlov play. Evgeny Kuznetsov has improved greatly, he plays with initiative and has always had quality. He has fully adapted now, and feels a lot more confident on the ice. We all know what Alexander Ovechkin is about - he is playing at his high level.
We got to see Nikolai Kulyomin too. He is playing excellently on the penalty kill, and he puts in a lot of work. If he was given more ice time, he could score goals too. Washington's Stanislav Galiev made an appearance as well - he is a good guy, and even if he isn't being allowed to show what he is made of yet, he is capable of big things.
- Do you have any regrets about not seeing Evgeny Malkin and Sergei Plotnikov in Pittsburgh?
- Evgeny had an injury. Nevertheless we spoke well for more than two hours. He is in a good mood, and will soon play on a stable basis. Two hours were also spent with Sergei Plotnikov. He is a great example of someone who has been unlucky with their coach. Sergei has big potential. He is worried about the situation, he bought out his contract with Lokomotiv to come to the NHL and wants to play.
- Things aren't too good with Viktor Tikhonov either.
- He tried hard in every shift and made an assist - that was all despite having less minutes than usual.
- For your Tampa Bay game, Nikita Nesterov didn't play.
- The most interesting thing is that he was in the squad - in the NHL the rules allow one player to be pulled from the team after the warmups, and no one knows who that player will be. I don't know why Nikita was dropped, maybe they didn't want us to see him.
- We know that other national teams carry out similar trips too.
- Yes, that's true. The Czechs have come here for the third time, and we have also met with Sweden and Norway. Peter Bondra has also been here - he was looking at players for Team Europe.
- Why did you spend so much time in Washington?
- A lot of Washington's opponents had some Russian players. Also, we had an agreement with the club about visiting Washington's training centre. This was helpful to me as a coach. Everything was very disciplined, and despite our guys seeing that we were there, they kept their concentration. Afterwards we were shown all of Washington's infrastructure, their gyms and the video review room. We saw a lot, and we met their head coach Barry Trotz.
- In the match between Washington and Montreal, you saw Alexei Emelin and Andrei Markov.
- Yes, Andrei looked great playing in a partnership with P.K. Subban. He had more ice time than anyone else, and despite his age he had his part to play in two goals. Alexei Emelin also pleased us - he is a mobile defenceman, and moves well while playing physical. We had a coversation with him. Towards the end of our trip we had thoughts to stay two or three days more. However, we spoke on the phone with Vladimir Tarasenko, Evgeny Medvedev, Sergei Bobrovsky and Pavel Datysuk.
- How is Sergei Bobrovsky's state?
- He has started training again and skates with Columbus' main group. He played with an injury while his team still had chances to qualify for the NHL playoffs, and he had a repeat problem. His treatment has taken a long time. We spoke with him about improving the goalkeeping training process in Novogorsk.
- What mood is Andrei Vasilevsky in? He doesn't always play for the Tampa Bay Lightning.
- He has enough ice time. If he isn't playing in the NHL, he gets minutes for Tampa's farm club, and he is regularly named the first or second star of games there. I think that he has already passed the level of his farm club, but he's finding it hard to knock Ben Bishop off his position. Andrei is a serious guy, and I think that he will become their number one goaltender soon.
- On the 2nd of March, you will have to name your initial squad for the World Cup of Hockey. Will all of those players be from the NHL?
- At this moment in time, we will name NHL players as they have experience of playing on the small ice. However, that does not mean that KHL players do not have a chance to play at the tournament - everyone who plays in our league in Russia will have a chance to be called up for that competition.
- Will you travel to North America any more this season?
- Someone from our coaching line-up will fly there again in March to see the guys who we missed. I will make a decision about flying myself at a later date. One of the main tasks for us was to get the agreement from our NHL players to take part in the home World Championship. No one turned down the offer, they all want to play. The main thing is that they won't pick up any injuries.
Russian Ice Hockey Federation