ALL NEWS
The national team's World Championship roster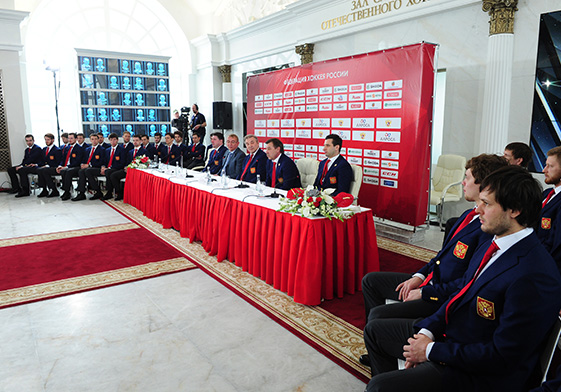 Inside the Hockey Museum, located next to the Moscow Ice Palace, the Russian national team's initial roster for the World Championship was presented. During the ceremony, Russian Ice Hockey Federation president Vladislav Tretyak, the RIHF's first vice-president Roman Rotenberg, the team's head coach Oleg Znarok, the first vice-president of the Alrosa company Ilya Ryaschin and the Legends Park general director Alexei Kasatonov all spoke.
Vladislav Tretyak, RIHF president:
- We have tried to bring our best young and experienced players together. At this tournament, we should play good hockey that our fans will enjoy. It's more difficult to play at home, and despite the roars for us to power forward, we should play with cool heads. A home World Championship is a big event for our players. During this year, we will celebrate 70 years of ice hockey in the country, and we hope that this team can keep our winning traditions going.
Ilya Ryaschin, first vice-president of Alrosa:
- It's a huge honour for our company to be the title sponsor of the Russian Ice Hockey Federation. We hope that our team will perform successfully at the World Championship, and that we can continue cooperating together for a long time.
Alexei Kasatonov, Legends Park general director:
- The ice hockey's hall of fame and museum's story began in 2013, when the Russian president gave his approval. In 2014, the RIHF co-assisted us in holding the first ceremony inside the hall of fame. Now, work over the hall is ongoing. It's symbolic that this procedure is taking place here, as the players can feel our ice hockey history.
These following 28 players have been included in the initial squad:
Goaltenders: Sergei Bobrovsky (Columbus Blue Jackets), Igor Shestyorkin (SKA Saint Petersburg), Ilya Sorokin (CSKA Moscow).
Defensemen: Denis Denisov (CSKA), Nikita Zaitsev (CSKA), Viktor Antipin (Metallurg Magnitogorsk), Maxim Chudinov (SKA), Alexei Emelin (Montreal Canadiens), Alexei Marchenko (Detroit Red Wings), Alexei Bereglazov (Metallurg Mg), Vyacheslav Voynov (SKA).
Forwards: Vadim Shipachyov (SKA), Evgeny Dadonov (SKA), Ivan Telegin (CSKA), Sergei Plotnikov (Arizona Coyotes), Sergei Kalinin (New Jersey Devils), Yegor Averin (Lokomotiv Yaroslavl), Alexander Burmistrov (Winnipeg Jets), Sergei Mozyakin (Metallurg Mg), Stepan Sannikov (Sibir Novosibirsk), Alexander Radulov (CSKA), Sergei Andronov (CSKA), Pavel Datysuk (Detroit Red Wings), Daniil Apalkov (Lokomotiv), Artemiy Panarin (Chicago Blackhawks), Roman Lyubimov (CSKA), Sergei Shirokov (SKA).
Russian Ice Hockey Federation