ALL NEWS
Vladislav Tretyak at the Hockey Future forum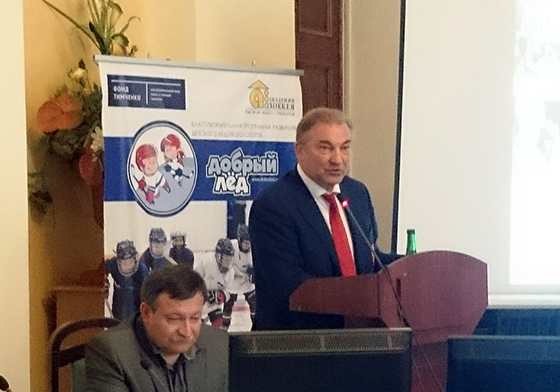 At the Hockey Future forum in Saint Petersburg, Russian Ice Hockey Federation president Vladislav Tretyak made a speech:
- In the Russian Ice Hockey Federation, we play a lot of attention to the forming of coaches. It's important that native coaches, especially those who work in youth ice hockey, were taught using modern technical and methodical programs. It's good that during the 2016 World Championship in Moscow and Saint Petersburg the IIHF coaching symposium and the Hockey Future forum are being held, as our coaches can get to grips with new ice hockey tendencies.
This is the third Hockey Future forum, and it has been organised by Elena and Gennady Timchenko's charity and the Russian Ice Hockey Federation. It is being held in the Lesgaft University until the 18th of May. The main topic is the transformation between youth and senior ice hockey.
In the forum, there will be a conference concerning relevant issues surronding the preparation of coaches, master-classes with famous Russian and foreign ice hockey coaches, attending and analysing 2016 World Championship games, and table discussions about modern ice hockey.
The event is behind held at the Lesgaft University, at the Yubileyny Arena and the Krasnaya Zvezda complex.
Ice hockey academy director Leonid Mikhno, honoured Russian coach Igor Zakharkin, world champion Andrei Nikolishin and honoured specialist Rafail Ishmatov will all take part.
Russian Ice Hockey Federation