ALL NEWS
Pavel Datsyuk: "There is a lot of talent in Saint Petersburg"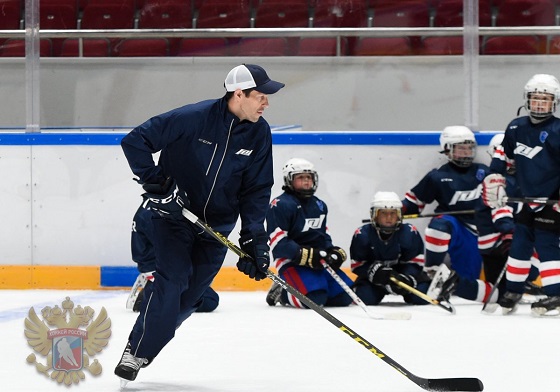 Inside the SK Yubileyny Arena, the "Pavel Datsyuk School" is continuing. The project was set up with the support of SKA Hockey Club and the Russian Ice Hockey Federation. At a special press-conference, both Pavel and the school's director Todd Woodcroft spoke about the camp:
Pavel Datsyuk:
- I want to say a big thank you to Saint Petersburg for welcoming me. I am happy to be here, and the atmosphere is great. Also, I say thank you to the parents of these children for bringing them up so well. It was a nice surprise to see that they are so professional when on the ice.
- What can you say about Saint Petersburg's talents?
- Saint Petersburg is a real sporting city, and ice hockey is developing. There is real talent here. With quality help from coaches, these players can be brought up a level. The region is on the right path.
- Are your training sessions based on what you have learnt in the USA? They aren't similar to Russian work-outs.
- During the past eight years, these camps have taken place in Russia only. We have adapted around the children's needs. The main differences are the intensity and the higher standards. The children have no problem with playing physical, and are showing even more than they are capable of. After the first few days, they begin to open up and try even harder.
- Speak about the other coaches who are here.
- Some have come from America and Canada, while there are inspectors from Slovakia, Sweden, Belarus and Yekaterinburg. Everyone brings something different to the table.
- Are the same children present during these five days?
- Yes, there are two groups of 38.
- What are the strengthens and weaknesses of our city's youth?
- It's hard to pick something out after only two days. Nevertheless, they are showing real committment. As the camp goes on, they will improve even further.
- In these five days, what can you teach the children?
- It's a crash course. There isn't a lot of time to teach them new things, but we can give them needed information. If a young player is serious, he can take things away from this experience for the future. We are going over a lot of things in training, and hopefully this will help them later on in their careers. Our main goal is to make children love ice hockey, as there is a lot of problems surronding the sport among younger players. Some don't love ice hockey that much, and we have to remind them to take satisfaction from what they do.
- Since you have now moved to Russia to play with SKA in the KHL, is there a possibility that you will hold such camps on a more regular basis?
- In the past, we have only worked during the off-season. At this moment in time, I don't think that this will change. However, when I finish my career, I will make this a more intense project. That's my plan anyway.
- Is making ice hockey more popular at youth level the key in Russia?
- Yes. This will help Russia, we need a healthy nation.
- What qualities should graduates of your school have?
- When I have a full scale school, we will be able to talk about this. All young players should be professional on the ice at all times. Also, outside of the rink, they should be decent people too: they must respect their parents, who do everything so that their children have the opportunity to play ice hockey.
- Do you see yourself as a future coach?
- Instead of being an ice hockey coach, I would like to become the manager of an academy or an organiser.
The "Pavel Datsyuk School" director Todd Woodcroft:
- This is the ninth year of this project, and it's the first time that we have travelled to Saint Petersburg. Pavel has gone to great effort to ensure that the specialists involved in this camp are from all around the world. I would like to thank Gennady Timchenko, Roman Rotenberg, Alexander Medvedev and the whole of SKA Hockey Club for the invitation to hold this camp in Saint Petersburg.
- You have worked with young Russian players before. In terms of physical conditioning, how do they match up with their North American counterparts?
- First of all, we should talk about ice hockey as a game. It's a game for children. Some understand this as they grow up, and they go on to play ice hockey for a living. The main thing is that we are promoting the fact that it should be enjoyable to play the sport. It's the same in both North America and Europe. We're lucky, that we are involved in ice hockey.