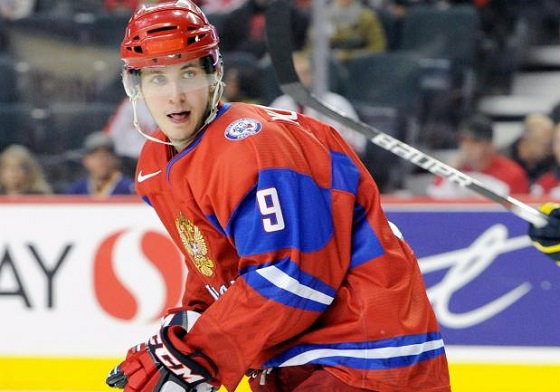 Want to know more about Russian national team forward Nikita Kucherov? This should help:
A shy guy
In an interview not long ago, Nikita Kucherov spoke about the fact that Pavel Bure was his idol, and that he saw Arnold Schwarzenegger but was too shy to speak to him. Also the last book that he read was a games console instruction manual.
A baby is named in his honour
Two Tampa Bay Lightning supporters decided to name their baby in honour to whoever scored the first goal against the Florida Panthers during the off-season - indeed Nikita netted that marker, and the new parents kept to their word.
Nikita Franklin and his happy family
Making impressions in the NHL
Phil Esposito, a legend in North America, was quoted as to having said that Nikita is capable of scoring 40 goals a season. Nikita has impressed everyone in the NHL with his amazing ability with the puck, and national team-mate Alexander Ovechkin mentioned that he could even net 50 goals.
The compliments don't stop there either: "I love Russian players. They work hard and have huge talent, and Nikita Kucherov matches that stereotype perfectly. He is a very intelligent player, and he fights in the playoffs especially," mentoined ex player Jeremy Roenick.
A playoff expert
Nikita is a true clutch player - he has 22 goals from just 45 playoff matches, while in 211 regular season fixtures, he has just the 68. This should work out handy for the World Cup of Hockey!
The 2014/2015 NHL's most useful player
In the 2014/2015 NHL regular season, Nikita tallied up a +35 plus/minus rating - the joint best in the entire league. He really is someone who you can rely on in the toughest moments.
Kucherov Nikita Igorevich
Born on the 17th of June 1993
Plays for the Tampa Bay Lightning in the NHL
Playing career:
2009-2012 - Krasnaya Armiya
2011-2012 - CSKA Moscow
2012-2013 - Huskies
2013 - Syracuse Crunch
2013-present - Tampa Bay Lightning
Achievements:
2011 Kharlamov Cup champion
2015 NHL finalist
2011 World under 18 Championship bronze medalist
2012 World Junior Championship silver medalist
2013 World Junior Championship bronze medalist
Russian Ice Hockey Federation