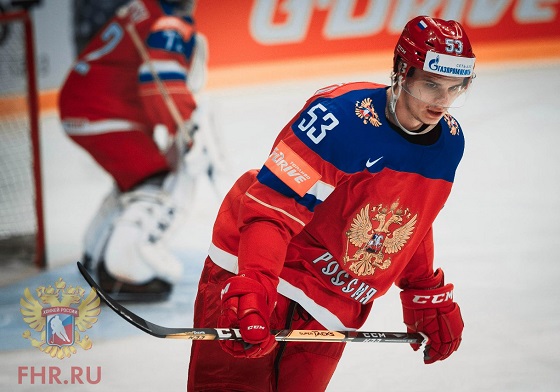 Detroit Red Wings defenseman Alexei Marchenko is beginning to make a name for himself, and after impressing for the Russian national team at the 2016 World Championship, he earned a call up to the World Cup of Hockey. Let's learn more about the talented Russian:
Was the face of the Russian Junior Ice Hockey League
In 2009, not long after the MHL was founded (Russian Junior Ice Hockey League), Alexei was included in the photoshoot covering the championship's brightest prospects. Alongside Alexei was forward Alexander Khokhlachyov, and both have since gone on to have promising careers, with the latter now playing in the KHL for SKA Saint Petersburg.
Challenges from club veterans
When signing his first contract with Detroit, Alexei spent some time in the AHL. In his team, there was a tradition for the club's veterans to give the younger ones special challenges, and they included making friends with homeless people and getting a tattoo. Alexei managed to get away without having a tattoo engraved.
Played paintball without a gun
As well as those dares, Alexei's team played paintball together, He explained to us how it worked:
- We didn't have any guns, but others did, and they shot us. Notably, we didn't have any protection. However, two of us were in big chicken costumes, and we had wings which prevented us from getting hurt. In the end up, one of my teammates was left without any real protection, and after one big paintball match, he was left with bruises all over his back!
Loves playing dominoes
When flying on the Detroit Red Wings plane, Alexei, Pavel Datsyuk and masseur Sergei Chekmaryov love playing dominoes together. Alexei pointed out that he understands the game's rules, but admitted that he needs to improve his tactics against such experienced opponents.
Starred at the World Championship
The 2016 World Championship in Moscow was Alexei's first major tournament as a senior Russian national team player, and he took full advantage of the opportunity at hand. Alexei was on the ice for 14 of Russia's goals, and overall, he notched up a +12 plus/minus rating, matching fellow defenseman Nikita Zaitsev's best.
On the 8th of September in Saint Petersburg, you have the opportunity to see Alexei in action during the friendly Russia - Czech Republic match. Purchase a ticket now.
Russian Ice Hockey Federation