ALL NEWS
Interviews before playing the Czech Republic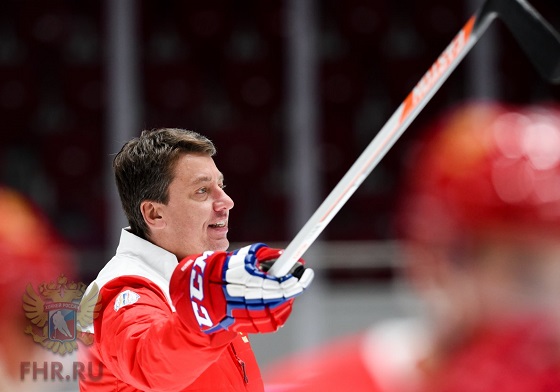 Harijs Vitolins, Russian national team coach:
- Despite being tired after an early flight from Saint Petersburg, we are in a good mood. We have enough time to recover.
- Will you change things up for tomorrow?
- Yes, of course. Yesterday, we made mistakes in our own zone, and tomorrow we will look over these errors again. We need to play better on special teams, and attack more aggressively.
- Can you tell us if Alexei Emelin and Artyom Anisimov will play tomorrow?
- Alexei will play in place of Andrei Markov, while Artyom will replace Pavel Datsyuk. Also, Semyon Varlamov should play.
- Is there anything special about playing two games against the same opponents?
- No. We simply want to play better ourselves, but unfortunately, the quality of the ice here in Prague is poor. On the small ice, more chances arise, however, tomorrow, things will be different.
- Will the change on to the big ice ruin the training process?
- We can't do anything about this. It's good that the facilities were good in Saint Petersburg.
- Yesterday, three players made their debuts. How would you rate their performances?
- They all tried. We will analyse their performances in more detail.
Pavel Datsyuk, Russian national team forward:
- The first game against the Czechs was good, and there was a good atmosphere. At the World Cup, all teams will have a chance to become champions, and the team which plays best together will win.
- Slovakian players will compete for Team Europe. Do you think that Slovakia should have competed as a separate team?
- It's not my decision. The Slovakian figures for the European team deserve their place.
- What can we expect from the second game against the Czech Republic?
- The Czechs will have the home advantage, and they will play with more energy. I think that it will be a good match.
- The coaches have stated that you won't play.
- Thanks to them for giving me a rest.
- How would you sum up Nikita Kucherov's, Nikita Nesterov's and Vladislav Namestnikov's national team debuts?
- They helped us to play as a team. I congratulate Nikita Kucherov with his first goal, they all have great potential.
- Will the big ice disturb your preparation for the World Cup?
- I don't think that it's an important factor. The main thing is that we can have game practice.
Alexander Ovechkin, Russian national team forward:
- Yesterday's result isn't that important, it's more crucial that we played a good team game. I think that my line will play a lot better, and things will get better with every match.
- Michal Neuvirth is expected to play for the Czech Republic.
- He's a good goaltender, and he played excellently during the Washington - Philadelphia series last season.
Russian Ice Hockey Federation