ALL NEWS
Interviews after the second match against the Czech Republic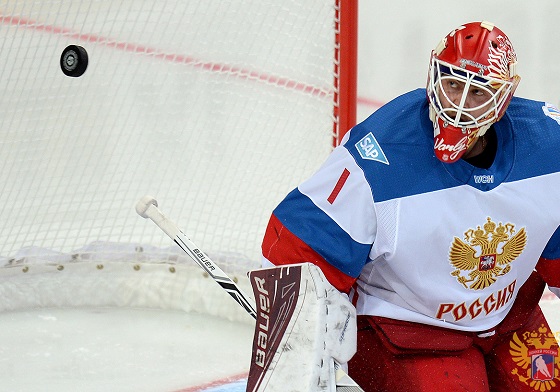 Oleg Znarok, Russian national team head coach:
- With this being on the bigger ice, it was a totally different game. We have things to improve on. The players aren't shooting on goal enough. It was interesting playing three on three in overtime, I had never had this experience beforehand.
We were a lot better in Saint Petersburg. The puck had already hit the upper netting when the Czechs scored, but we didn't have the opportunity to ask for a review. Just like Sergei Bobrovsky, Semyon Varlamov played well.
- How did you play defensively?
- The score speaks for itself. They had more shots than us, and we should have shot more.
- There were a lot of fights.
- Yes, we saw a lot of penalties. I don't mind scuffles.
- What can we expect from the match against Canada?
- Personally, it will be a really interesting game. All of the guys know where we are travelling and who we will play against.
Semyon Varlamov, Russian national team goaltender:
- I felt good during that game, I'm not even tired. Usually, I find it tough after pre-season training. Today, it was the complete opposite.
- Did the defensemen help you out?
- Yes, they did a good job. It would have been better if we could have scored two or three more goals, but we couldn't do it. Probably, it was difficult playing on the bigger ice again. To be honest, I have no idea why we came here to play. We have been training on the smaller ice in Saint Petersburg, I can't see the point behind playing a friendly on a different sized rink.
It was hot inside, and the ice wasn't of good quality. Nevertheless, both teams we're in the same boat.
- In one episode, a Czech forward knocked you with his skate. Is it important that your teammates stuck up for you?
- Alexei Emelin won't let anyone get away with a foul. I don't know why the Czech player did what he did, we all need to respect the opponents.
- A lot of people are stating that Sergei Bobrovsky is Russia's number one. Does this bother you?
- Our performances on the ice proves who is the number one, number two and number three.
Alexei Emelin, Russian national team defenseman:
- We played well, but we retreated back into defence during the third period. We lost our blue line, and played too much in our own zone. We missed a lot of opportunities in overtime. It was my first game, and I don't feel at 100%. It was very hot, and the ice was soft. In defence, we made conclusions after the first game, and analysed our errors.
- Did a Czech player push Semyon Varlamov?
- I tried to move him out of the way, I saw what he was going to do. There were a lot of fights because no one wanted to lose, both sides wanted to win. In the third period, we began to play more cautiously because any mistake could have proven crucial.
Evgeny Kuznetsov, Russian national team forward:
- It's disappointing to lose. On the other hand, the tournament will begin soon, and we should be ready for it. Despite losing, I liked how we played, even if we should have shot more. This was the first match after the summer, and we need time.
- Does playing three on three overtime on the big ice differ from in the NHL?
- No, there's no difference. It was just difficult to adapt to the European rink again.
- Is the team ready for the World Cup?
- It's difficult to judge, this was a friendly game. When its an official match, you have a different mindset.
- Next up is Canada. Can fixtures between these two countries ever be friendly?
- Of course not! It will be a battle, we fight against any opponent. At this level, I have never played against the Canadians.
- You were seen discussing something with the referee?
- I know him well, we often meet in matches. If you get along well with the referees, they will always be kind and defend you. The main thing is not to argue after the whistle has already blown.
Russian Ice Hockey Federation