ALL NEWS
Russian interviews at the World Cup of Hockey Media Day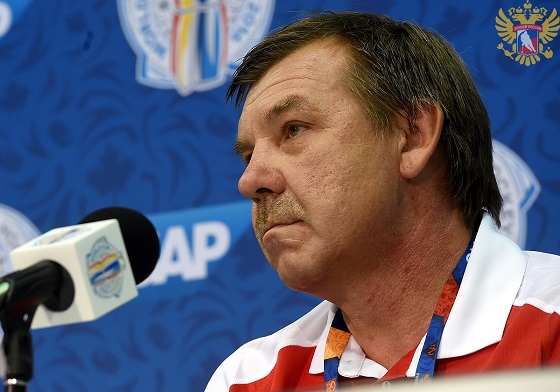 Oleg Znarok, Russian national team head coach:
- Sergei Bobrovsky will play against Sweden. I have been working with the players in our team for a number of years, I find it easy to cooperate with them. We want to play great ice hockey here at the World Cup.
- Has yesterday's match given the team confidence?
- Yes. We played well, but we still have things to work on. Hopefully, we can fix them before playing Sweden.
- Why did you play so poorly in the first period against Canada?
- It was the third day of acclimatization. We were nervous, but later on, we improved.
- Have you decided who will play against Sweden?
- Not yet. We have another three days of training.
- The team has had problems with faceoffs.
- Faceoffs are really important, you learn how to play them well during childhood. In training, we always pay attention on to this component.
Evgeny Malkin, Russian national team forward:
- We have already played in Saint Petersburg, Prague, Pittsburgh and now we are in Toronto. The tournament's organisation is of the highest level. I think that our team is ready.
- These will be the first official games since the summer. Will it be tough?
- Everyone will find it hard. I had a short summer, however I had time to recover and prepare for the new campaign. I am playing with Nikolai Kulyomin and Vladimir Tarasenko, players which I know well. I can't wait for the competition to begin!
- What have you taken away from the game with the Canadians?
- It was important that we regrouped after an awful first period. We need to begin matches better and play like we did during the second half with Canada. Also, our powerplay has to be better.
- Your opinion on Russia's game?
- We are improving every match. We have confidence and are discussing things all the time. I am sure that we can score more goals. If we talk about my performances, then if I will step it up, I will have goalscoring chances.
- Speak about Sergei Bobrovsky.
- Maybe Sergei is the NHL's best goaltender, he's unbelievable. Yesterday, he stopped fifty shots. He always gives us a chance to win.
- You have a "Russia Is My Life" baseball cap on, you must be a true patriot!
- Of course, we love our country! Our players are happy to represent Russia. I know how much the Russian public are looking forward to the competition and despite the timezone, a lot watched yesterday's fixture. We want to play well for them.
All of the teams here feel the pressure. Canada have more than anyone else as they are playing at home. Toronto has a great stadium, and it will be enjoyable to play here. We have to be ready from the first shift.
Sergei Bobrovsky, Russian national team goaltender:
- I always focus on each separate game. Right now, I am concentrated on our interview! However, I have Sunday's game with Sweden in mind.
- What sort of coach is Oleg Znarok?
- He creates an excellent atmosphere within the team and makes us a complete unit.
- Does he have the same mindset of a player?
- Yes. At the same time, he always knows when the time is right to have a joke together and when to prepare us for a serious battle on the ice.
- When you were younger, who was your role model?
- Vadim Tarasov. He played at a high level and was considered the best goaltender in our country. He had brilliant technical ability, he influenced how I play.
- In terms of pressure, is there a difference between the Olympic Games and the World Cup of Hockey?
- All tournaments are different, we can't compare them. For me, it's a huge honour that the coach has given me the opportunity to be the starting goaltender for the opening game. It's a great challenge when the world's best players are competing against you.
Russian Ice Hockey Federation