ALL NEWS
Harijs Vitolins and Nikita Zaitsev speak about World Cup preparations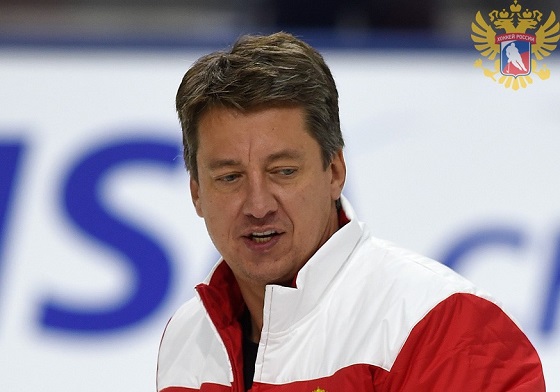 Harijs Vitolins, Russian national team coach:
- Pavel Datsyuk is a calm player, as a result we put him in the line with Alexander Ovechkin and Nikita Kucherov. All of the players in the national team are true professionals.
- Will you make any changes to your World Cup roster?
- You can replace an injured player during the tournament. However, the medical committee makes the decision here in Toronto. Everything depends on how serious the injury is. If a player gets knocked out for the whole competition, we can bring in a substitute.
- Nikita Nesterov and Vladislav Namestnikov didn't play against Canada. Can you tell us if they will compete with the Swedes?
- We haven't decided yet, we can make a final decision five minutes before the match starts.
- North American coaches have been watching your training session today.
- On the small ice, everyone plays the same style of ice hockey. I don't think that our trainings differ. However, our special teams tactics will be specific and we need the ice to practice. All trainings are open, we also watch how they work-out.
- With their new head coach, have the Swedes changed?
- Even on the bigger ice, Sweden play aggressive ice hockey. The majority of their players are from the NHL.
- Did you notice Sweden's weak points during their match with Team Europe?
- The main thing for us is our own game. Nevertheless, we will analyse Sweden.
- Rate Sweden.
- They have always been a mobile team. Erik Karlsson is a defenseman who likes to break forward, Canadian players did the same against us. Sometimes, defensemen can be quicker than forwards.
- A lot of experts are pointing out that Russia doesn't have enough attacking defensemen.
- Our defensemen can also attack! We saw this against Canada.
- At the World Championship, you can always recover after a bad performance, but here, there is no time for mistakes. If you lose the first game, it will be difficult to make it to the playoffs.
- Everyone is in the same boat. The tournament is short and we have to be ready from the first second, even the smallest of errors can cost us.
- Are Sweden one of Russia's favourite opponents? You often beat them at major tournaments.
- We don't look at statistics. The main thing is that the guys are confident and that they know what we expect from them. All opponents are strong.
- Tomorrow, the team will take part in the World Cup's opening ceremony. Will this take its toll on your preparation process?
- They have such rules here, they are the same for everyone.
- What can you say about the young North American team?
- They are a pacy and physical side. Overall, I think that we should have more quality, but we can't relax, committment is more important than talent.
- Were there some things that you didn't like about the game with Canada?
- Yes. We had a team meeting, and we showed the players where they went wrong. Some aspects have to be improved.
- Against the Canadians, you lost the faceoff battle.
- It wasn't that bad, Pavel Datsyuk and Evgeny Malkin did a good job. We want them to compete in even more faceoff draws. It's an important component of the game. Here, you can be more physical in faceoffs, in Europe it's not the same.
Nikita Zaitsev, Russian national team defenseman:
- The tournament is special because it's the World Cup, not because it is taking place in the city where I will play this season. Still, it's good that I don't have to travel anywhere afterwards.
- Have you got used to the speed of the game here?
- Yes, we had been preparing for the friendly matches. Straight away, we can see the level of the opponents. The best players in the world are playing against us.
- Does the coach ask for you to join the rush?
- I think that all coaches like this. Ice hockey nowadays requires this.
- Was the poor start against Canada down to acclimatization?
- It's not because of acclimatization, we have made our conclusions.
- Were you surprised that Sweden lost heavily to the Europeans?
- I am not keeping up to date with how other teams are playing. We are only thinking about our matches.
Russian Ice Hockey Federation