ALL NEWS
Interviews after playing Sweden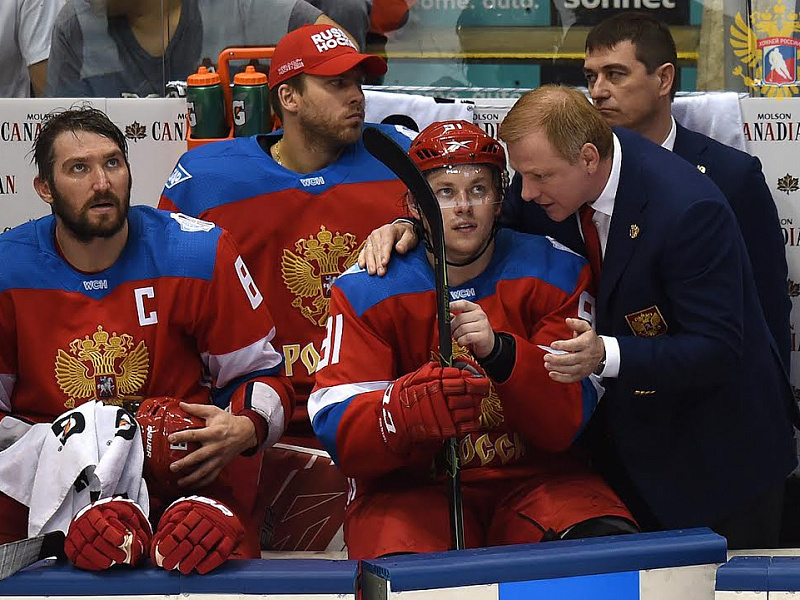 Sergei Bobrovsky, Russian national team goaltender:
- I don't like to analyse how I conceded goals. Sweden blocked my view for the first and the second was scored on a counterattack, I had little chance to make a save. Alexander Ovechkin's second goal? I can't comment on that.
- Sweden didn't let Russia play their style of hockey.
- It was a tight, defensive game. Both teams did well in defence.
- What was lacking in attack?
- Goals. It was a closed match, but in the third period, we crashed the net and played great.
- Will the last few minutes give the team hope moving forward?
- Of course. Tomorrow's game is key, it's the most important day. We will fight like it's our last battle.
- You will have a few more hours to recover than North America.
- This is a small advantage for us. We have time to recover and prepare.
- How do you feel personally?
- I feel good both mentally and physically. Tomorrow will be a new day.
- The pressure will be even larger tomorrow.
- We are all professionals who have baeen in such situations before. We will play to win.
- Do you know if you will play?
- I'm ready, however the coach makes the decision.
Vladimir Tarasenko, Russian national team forward:
- We wanted to do too much. It was tough going in the first period, we didn't play our style. In the second, we made mistake for their goals and gave Sweden the initiative. We're not happy with the result, we have to play better. There is no time to be upset, tomorrow is a new game and we will analyse what went wrong here.
- It seemed as though you and your linemates didn't understand each other, you kept trying to do everything by yourself.
- We can't decide who we want to play with, our job is to show our best qualities and help the team.
- Oleg Znarok thinks that you didn't shoot enough. Why didn't you?
- We wanted to play beautiful hockey, but that wasn't the right decision. We need to do what the coach says and take more shots.
- Speak about the disallowed goal.
- I can't comment on the referees' calls. Some goals have already been reviewed at this tournament, with Canada getting a decision go their way yesterday. The referees decide whether to call it a clean goal or not. The game is over, we have to move on.
- Tomorrow, you will play against a hungry North American team. What needs to be changed?
- We have to prepare for the match well and recover from today. Tomorrow, our tournament's fate will be decided. It doesn't matter who we will play against.
- Russia made three times as many hits as Sweden.
- Ice hockey is a physical sport. Nevertheless, we lost, there is no use in looking at statistics.
- When you pulled the goaltender, you almost made it a tied game. Why couldn't you do the same on the powerplay?
- It's hard to say something directly after the match. We need to look over things with a cool head. We have a good team, we believe that we can win. Tomorrow, we will give 400%.
Pavel Datsyuk, Russian national team forward:
- In the third period, we started to make the Swedish defence work. On the small ice, any shot is dangerous, we need to score dirty goals.
- Did the fact that Jacob Markstrom played have a bearing on the result?
- We played Sweden, not just one goalkeeper.
- What needs to be done in order for Russia to beat North America?
- They have quality, energetic players. Their main strength is counterattacks, we can't give them that opportunity.
- Were you given the task of playing physical against Sweden?
- The team should play in a physical style against any opponent, especially in our own zone and on the crease.
- You haven't scored in the first period for three games in a row.
- At the start of games, we have to play better and not wait for the second and third periods.
- Have you seen the replay of Alexander Ovechkin's second goal?
- It's not my call, the referees are there for that.
- You will play North America in 24 hours time. Will tiredness take its toll?
- No one cares if you're tired or not. You have to give everything.
Russian Ice Hockey Federation