ALL NEWS
Interviews concerning preparation for the match against Finland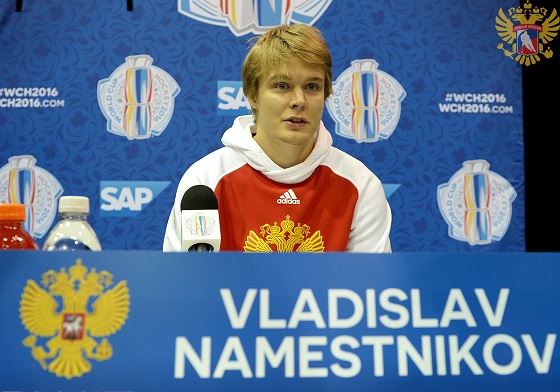 Oleg Znarok, Russian national team head coach:
- How is Ivan Telegin? He blocked a lot of North American shots yesterday.
- It seems as though everything's fine. I saw him at breakfast, he was walking on two feet.
- How is it training such a veteran as Pavel Datsyuk?
- Age doesn't hold any meaning. Pavel plays on the penalty kill, does well at faceoffs. He's a fantastic player.
- Was yesterday's line-up your optimal roster? Or will there be changes against Finland?
- If no one gets injured, nothing much will change.
- Have you analysed Finland?
- Yes, but we will look at their tactics in a more detailed manner tomorrow on tape.
- Will Sergei Bobrovsky be Russia's only goaltender at this competition?
- Sergei is playing brilliantly.
Evgeny Malkin, Russian national team forward:
- Pavel Datsyuk is an unbelievable player, he's forever young. I like playing with him and I am enjoying this opportunity. Pavel is the biggest professional which I have come across, he is a key figure for our team.
After a poor first match, my line has improved. I was impressed with how we performed yesterday, it was an important game for us. We know how good Finland are, but we are ready. We will see how they play against Sweden.
- How would you rate your own game?
- I try not to pay attention to the statistics. So far, I am not satisfied with myself, I want to improve. It's great that we won yesterday, this victory will give us confidence moving forward. Changes to the line-up? They were natural given the fact that we lost the first match. The coach's decision got us yesterday's result.
- Nevertheless, Russia weren't that great in yesterday's first period.
- It's a problem. We have made our conclusions in the dressing room. Maybe our nerves took their toll, we have to be ready from the first shift.
Vladislav Namestnikov, Russian national team forward:
- Playing for the national team is a new experience for me. Nerves? I got a taste for the atmosphere in friendly matches, I felt calm. It's amazing playing in one team with Pavel Datsyuk, it's brilliant to just seen how he trains on the ice and in the gym.
- Your debut goal was a strange one.
- The puck rebounded off the post, I got a bit lucky. I should have scored straight away. However, I'm pleased that it went in.
- After the match, Artyom Anisimov stated that the team was reborn in the second period.
- Yes, I agree with him. We started to play our own style of ice hockey and we stuck to the coach's game plan.
- Would you like to play in one line with Nikita Kucherov?
- I will play where the coach puts me.
Russian Ice Hockey Federation