ALL NEWS
Harijs Vitolins and Sergei Bobrovsky speak before playing Canada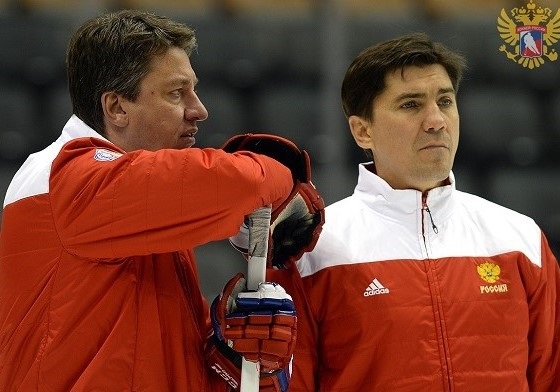 Harijs Vitolins, Russian national team coach:
- Having already played one friendly against Canada, we know how hard it is, but we also understand that we can compete on a level playing field. We will look over the video tape and see how we can beat them. Everyone has been waiting for this match, it's good for sport that Russia and Canada will play against each other. Both teams have pressure, however it's nice pressure.
In the first two games, Pavel Datsyuk was our key centre forward. He was a leader in defence on the penalty kill and on faceoffs. He is a big loss for us, we will see if he can play.
- How important wil it be to hold Canada off in the opening five minutes?
- We need to be ready for their fast start. We can begin preparing for a tough day.
- Will faceoffs be key?
- During the friendly game in Pittsburgh, Canada weren't that much better at faceoffs than us. Here, you can play more aggressively, block the stick and move the puck with skate. Every attack starts with a faceoff win.
Sergei Bobrovsky, Russian national team goaltender:
- In the past few years, I have played against Canada twice. Tomorrow we will try to play our best ice hockey. What depends on me? I need to stop pucks.
- Russia's opponents have fired in a lot of shots against you. Can we expect the same tomorrow?
- We'll see. Maybe they will have twenty shots, or it could be forty or fifty. I can't choose how many shots the opponents will have. I am preparing for the start of the match.
- Is it hard mentally and physically to play such challenging matches?
- No, I feel great. You live for such matches.
- Will the experience in Pittsburgh not long ago help you tomorrow?
- I think that it will be a different game tomorrow. Mistakes will prove costly for both teams.
Russian Ice Hockey Federation