ALL NEWS
Russia's under 18 women's national team have trained in Novogorsk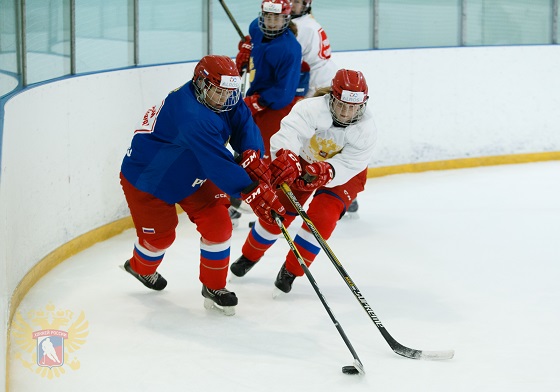 Ahead of friendly matches against Germany and Switzerland, the under 18 Russian women's national team have been training in Novogorsk. Afterwards, head coach Evgeny Bobariko decided on his roster which will take part in the games on the 6th and 8th of October:
NAME
DATE OF BIRTH
CLUB
HEIGHT
WEIGHT
GOALKEEPERS
Merkusheva Valeria Sergeevna
20.09.1999
SKSO
168
60
Tretyak Milena Olegovna
20.06.2000
ORBITA
163
53
DEFENDERS
Klimkina Anna Andreevna
23.02.1999
BIRYUSA
171
64
Grishina Varvara Sergeevna
01.05.2000
ATLANT
164
50
Kochneva Polina Pavlovna
09.10.1999
SKIF
164
67
Goncharova Elizaveta Aleksandrovna
19.07.2001
ATLANT
163
64
Namestnikova Olesya Vadimovna
05.03.2001
SKIF
157
67
Khaustova Alyona Igorevna
16.01.1999
TORNADO
169
72
FORWARDS
Beloglazova Darya Aleksandrovna
18.09.2000
PENGUINS
165
57
Budanova Aleksandra Olegovna
03.05.2000
ATLANT
170
62
Aleksandrova Maria Konstantinovna
19.08.2000
TORNADO
171
63
Serova Maria Andreevna
07.07.2000
ATLANT
165
60
Sokolova Ekaterina Sergeevna
29.08.2001
SKIF
168
64
Dobrodeeva Ekaterina Ruslanovna
10.12.1999
BIRYUSA
158
60
Pestova Anastasia Igorevna
16.04.2000
SKIF
160
56
Starovoytova Alyona Mikhaylovna
22.10.1999
TORNADO
172
64
Kosonogova Yulia Sergeevna
07.03.1999
SKIF
164
65
Shibaeva Olga Mikhlaylovna
12.03.2000
ATLANT
169
68
Lobur Maria Sergeevna
30.11.2000
TORNADO
164
65
Shatalova Tatyana Vladimirovna
17.08.1999
BIRYUSA
168
60
Shirokova Olga Vladislavovna
13.02.2000
ORBITA
167
68

Evgeny Bobariko, Russia under 18 women's national team head coach:
- After competing in Germany two weeks ago, we're preparing to play again. We played well at that tournament, taking first place. However, after playing at a high level during the first two matches, we were poor in the third. Unfortunately, we didn't have the right mentality for that game. The coaches have had to make conclusions.
The team has changed around 70%. All of the lines are different, with a minimum of two or three new players. We are continuing to look at different players, and recently, we were at the women's youth championship.
Our goal for these friendly matches are to see what these players are made of and how they follow the tactics in place. At the Novogorsk competition in December, we will have our main roster ahead of the World Championship.
Russian Ice Hockey Federation