ALL NEWS
A Vladislav Tretyak master-class in Dmitrov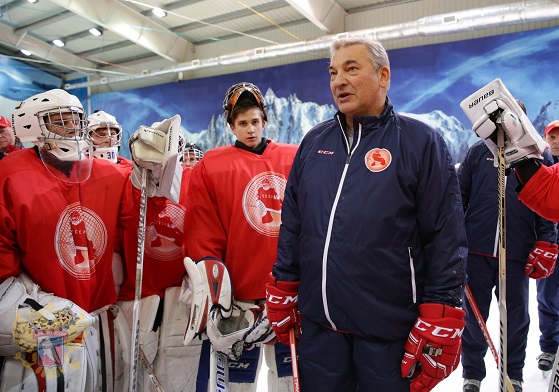 In Dmitrov on the 20th of October, RIHF president Vladislav Tretyak held a special master-class. 36 young goaltenders took part, as well as four female players. Ten coaches were involved in the training process. Representatives from Moscow, Saint Petersburg, Yaroslavl, Magnitogorsk, Yekaterinburg, Nizhnekamsk, Ufa, Kaliningrad and other cities were all present.
Vladislav Tretyak's goalkeeping school will this year extend between the 17th and 22nd of October. The players will train both on the ice and in the gym.
Russian Ice Hockey Federation president Vladislav Tretyak:
- Every year, a lot of players arrive from all over the country. It's great, because ten years ago, we had problems with goalkeepers of youth and women's teams.
The main task for today is to give the goaltenders quality training sessions, so as a result, there are trainings for them in the gym and on the ice. Sometimes out in the regions, coaches give goalkeepers the same training exercises as outfield players. I don't think that's right, as in every school and club, there are professional goalkeepers who work with children. I am happy that goalkeepers and their coaches have arrived here. We will answer all of the questions that they have concerning the training process. Also, we explain why certain training exercises are needed.
We are giving every goalkeeper the opportunity to act in different situations. This is a school where we can give the goaltenders exercises to move forward with. I am satisfied that the quality of goalkeepers is rising every year, that players from the whole of Russia come here and that the Russian Ice Hockey Federation holds this event. We have a school for defenders in Sochi too, but our goalkeeping camp is a traditional one. It helps produce good goalkeepers for youth teams, the National Hockey League and the KHL.
Artyom Mikhailov, member of the Vladislav Tretyak goalkeeping school:
- I am enjoying taking part in this event for the first time. I have learnt a lot of new information. There are great guys here, I didn't know many of them beforehand, but we have all been talking to each other here. Everyone has their own technique and does their own exercises. Everything is being explained clearly.
Milena Tretyak, member of the Vladislav goalkeeping school:
- When on the ice, we are told which direction to move in. There is something new in everything we do. There are a lot of players here, we're all helping each other out. For me, the most interesting factor is penalty shots. A lot depends on how the goaltenders peform.
Russian Ice Hockey Federation