ALL NEWS
15 years since the historic Russian triumph in Quebec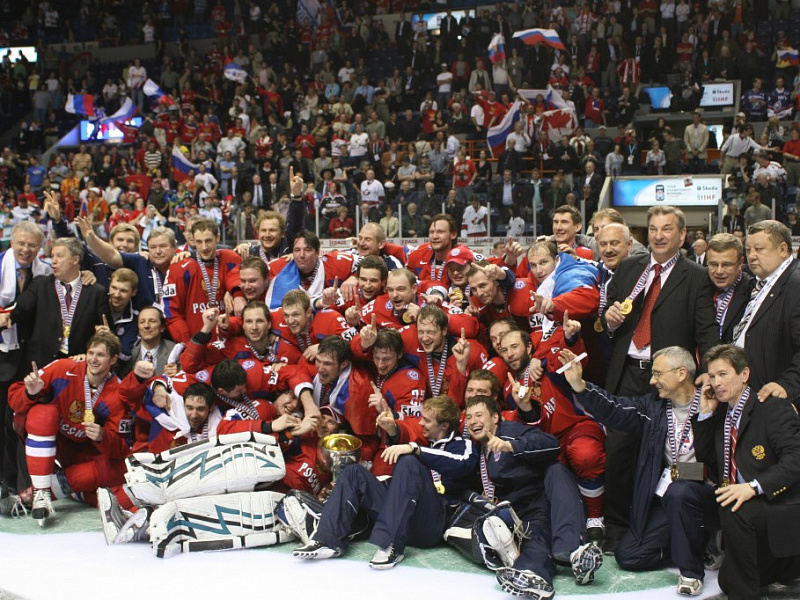 Exactly 15 years ago, on 18 May 2023, the senior Russian national team ended the 15-year wait to become world champions again by defeating Canada in highly dramatic fashion in Quebec!
The tournament will always be remembered for its scintillating final. Despite trailing 2:4 against their Canadian hosts after 40 challenging minutes, our players finally regained the global crown for Russia, as Alexei Tereshchenko and Ilya Kovalchuk forced an overtime period in which the latter etched his name into the history books with a superb winner on the powerplay.
In the knockout stage, Russia had comfortably defeated Switzerland (6:0) and Finland (4:0) to qualify for the final. Previously, in the group phase, our team managed to see off the challenge of Italy (7:1), the Czech Republic (5:4 OT), Denmark (4:1), Belarus (4:3 SO) and Sweden (3:2).
These following players were members of the squad for the competition:
Goalkeepers:
Evgeny Nabokov, Alexander Yeryomenko, Mikhail Biryukov.
Defensemen:
Konstantin Korneev, Denis Grebeshkov, Dmitry Kalinin, Vitaly Proshkin, Andrei Markov, Dmitry Vorobyov, Fyodor Tyutin, Daniil Markov, Ilya Nikulin.
Forwards:
Alexander Syomin, Alexander Ovechkin, Sergei Fyodorov, Ilya Kovalchuk, Alexei Morozov (team captain), Danis Zaripov, Maxim Afinogenov, Alexei Tereshchenko, Sergei Zinovyev, Maxim Sushinsky, Konstantin Gorovikov, Alexander Radulov, Sergei Mozyakin.