ALL NEWS
Liga Stavok Big National Team Tour. Russia 25 - Belarus. Live broadcast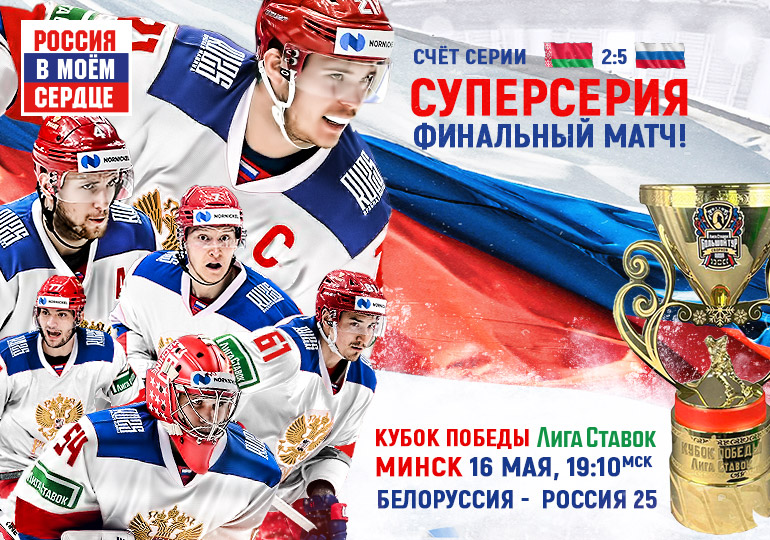 Russia 25 will compete against the senior Belarusian national team in the Liga Stavok Big National Team Tour in Minsk, Belarus.
So far, our players have earned five wins in the competition against Belarus (4:0, 6:2, 5:1, 4:1, 2:1 OT) and one over the Kazakhs (3:0).
Yesterday, in the first game in Belarus, the Russians conceded a slender 2:3 loss to their hosts.
These following players are participating in the Liga Stavok Big National Team Tour:
Goalkeepers:
Nikita Serebryakov (Admiral), Daniil Isaev (Lokomotiv), Dmitry Nikolaev, Sergei Ivanov (both SKA).
Defensemen:
Alexander Yelesin, Daniil Misyul (both Lokomotiv), Nikita Kamalov, Arseniy Koromyslov, Alexander Nikishin, Mikhail Pashnin, Andrei Pedan, Georgy Solyannikov, Nikita Smirnov (all SKA), Nikita Novikov (Dynamo Moscow), Maxim Fedotov (Torpedo), Ilya Karpukhin (Traktor).
Forwards:
Zakhar Bardakov, Dmitry Buchelnikov, Alexander Volkov, Mikhail Vorobyov, Vasily Glotov, Svyatoslav Grebenshchikov, Valentin Zykov, Nikolai Polyakov, Marat Khairullin, Marat Khusnutdinov (all SKA), Maxim Dzhioshvili (Dynamo Moscow), Matvei Michkov (Sochi), Pavel Poryadin, Andrei Chivilyov (Neftekhimik), Gleb Petrov (Mikhailov Academy), Yaroslav Likhachyov (Amur), Ivan Zinchenko, Alexander Yaremchuk, Vladislav Kara (all Vityaz).
Puck-drop is scheduled for 19:10 Moscow time.
LIVE BROADCAST