ALL NEWS
The national team's open day in Novogorsk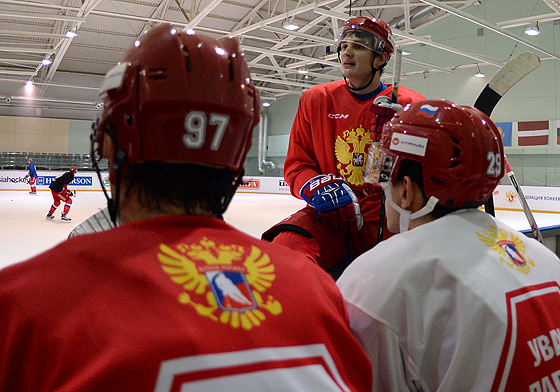 In Novogorsk, the senior Russian national team held a media open day before the Karjala Cup in Helsinki, Finland. The team trained in these following lines:
Sorokin, Shestyorkin, Demchenko;
Antipin, Beloglazov - Barabanov, Prokhorkin, Gusev;
Ozhiganov, Kiselevich - Nichushkin, Svetlakov, Golyshev;
Zub, Mironov - Okulov, Sannikov, Tkachyov, Shumakov;
Lyubushkin, Rafikov - Korshkov, Kraskovsky, Leschenko.
Russian national team head coach Oleg Znarok:
- We have given the younger players a chance, they have been playing well in their KHL clubs. It all depends on the players themselves. This team will fight hard and show its character.
- Didn't you want to take a look at how Kirill Kaprizov plays?
- Yes, but we have an agreement with under 20 head coach Valery Bragin. He is preparing for the World Junior Championship.
- How is Valery Nichushkin?
- He is improving. He is playing in a line with Andrei Svetlakov at the moment, but that can change.
- Anatoly Golyshev has been worse this season. Why did you call him up?
- We don't think that his strong qualities have disappeared somewhere. Every player has ups and downs.
- Who will be the team's leaders at the Karjala Cup?
- A lot of the guys play leading roles in their clubs. The Euro Hockey Tour's level is a bit higher, so it will be interesting to see how they cope.
- Can the Nikolai Prokhorkin - Nikita Gusev - Alexander Barabanov become one of the leading ones?
- Sibir have Sergei Shumakov and Stepan Sannikov, Lokomotiv trust their young players. Any line could raise above the rest.
Russia's first game at the Karjala Cup will take place on the 3rd of November at 20.30 Moscow time.
Russian Ice Hockey Federation