ALL NEWS
Interviews after beating Sweden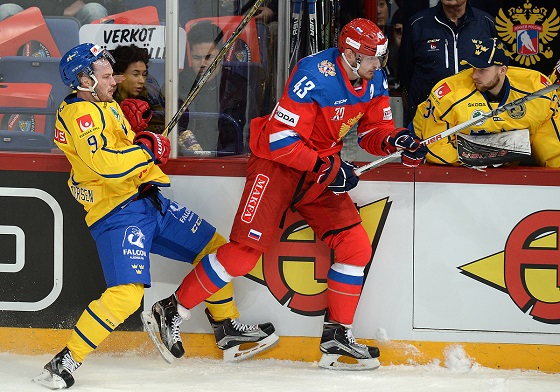 Oleg Znarok, Russian national team head coach:
- After playing poorly in the first period, we improved in the second. Did Bogdan Kiselevich's absence take its toll? Yes, I think it did. I don't know if he will play tomorrow.
- Why can't you score on the powerplay?
- We have only had two training sessions to work on things. Sometimes things don't go your way on the powerplay.
Alexander Barabanov, Russian national team forward:
- The pass was good, I took the puck under control and forced it over the line. It was a similar match to the one against Finland. It's disappointing to concede two goals, but the third penalty that we took was rather debatable. At the end of the match, Andrei Svetlakov held the puck, the siren went off and a fight began. Overall, we should have been more dangerous.
Sweden play in a different manner than the Finns, it was tough in defence. I would say that the speed of the game in the KHL and the Euro Hockey Tour is pretty much the same, maybe here it's a bit higher. Is it hard to play two days in a row? Yes, but we're young.
Valery Nichushkin, Russian national team forward:
- We didn't start that well, this game was harder. We got better in the second stanza though, we began to create chances. When I scored on the penalty, their defenseman made a mistake, Andrei Svetlakov's shot fell to me and I scored.
- Do you feek yourself improving?
- Yes. I hope to continue in the same way during the next few matches, I am motivated to prove to everyone that I can be helpful to the team.
Russian Ice Hockey Federation