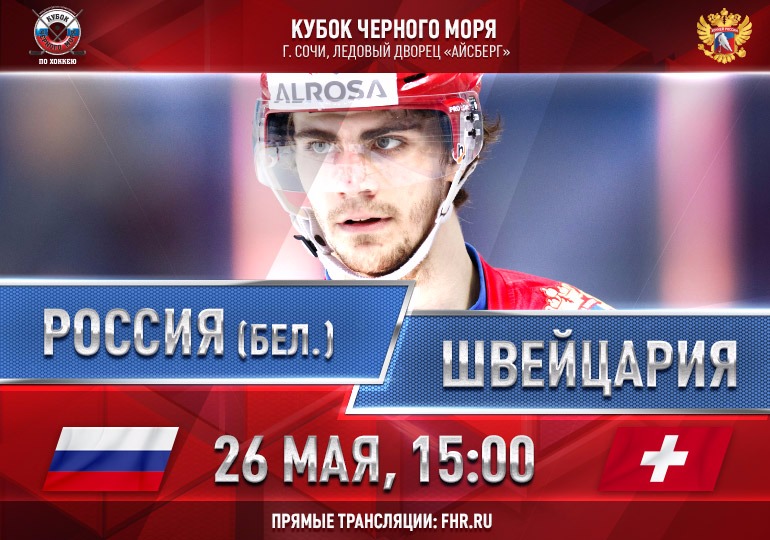 On May 26, day one of the Black Sea Cup will take place in Sochi.
At 15.00, Russia White with head coach Yury Babenko will play Switzerland. Yesterday, the players trained in these following lines:
Shmakov (Tarasov);
Baranov, Vasin - Yaremchuk, Lipanov, Starkov;
Lyakhov, Kalabushkin - Ogirchuk, Tsitsyura, Nikolaev;
Denisevich, Grachev - Sychushkin, Slepets, Koltygin, Mikhnin;
Olshanskiy, Motygullin, Kholodenin - Alexeev, Galimov, Oskin.
Watch a live broadcast here:
https://www.youtube.com/watch?v=G_qdfQmJD-I
Later, at 18.30, Russia Red, coached by Sergei Golubovich, will take on Denmark after training in these lines yesterday:
Ustimenko, Zhukov, Akhmetov;
Morozov, Khabarov - Kostin, Shen, Shashkov;
Shafigullin, Samorukov, Rubinchik - Rybakov, Anokhovskiy, Kovalenko;
Timirov, Perelyaev, Shepelev - Chekhovich, Bitsadze, Filin;
Volkov, Trishin - Muranov, Kanitskiy, Toropchenko.
Watch a live broadcast here:
https://www.youtube.com/watch?v=aHI4Dw82g4I